What is DEEPEND?
The DEEPEND (Deep Pelagic Nekton Dynamics of the Gulf of Mexico) Consortium is a 105-member, 19-institution research initiative to characterize the oceanic ecosystem of the northern Gulf of Mexico to infer baseline conditions in the water column. The deep-pelagic represents both the largest and the most understudied habitat on Earth. Although evidence has shown that the surface and deep community assemblages are linked, the exact pathways and linkages remain primarily undiscovered. In 2010, the Gulf of Mexico experienced the BP Deepwater Horizon Oil Spill (DWHOS). Although portions of oil made it to the surface while others were dispersed, all of the oil was at one point present in the water column, interacting with the pelagic community. The full extent of the DWHOS's effects on the pelagic community is still not known. Starting in 2015, DEEPEND began a five-year sampling, sensing, modeling, and laboratory analysis program assessing ecosystem dynamics, identifying drivers of variability, and investigating consequences of the spill on ecosystem attributes. The obtained data establishes a time-series with which one can detect natural and anthropogenic changes. To find out more about our mission, our research, or the animals of the deep Gulf of Mexico, dive into the rest of the DEEPEND website!
DEEPEND will be heading to the Gulf of Mexico Oil Spill & Ecosystem Science Conference from February 3-6, 2020, in Tampa, FL. We will be represented by 18 talks and 6 posters. Our team will be presenting data on a wide range of topics, such as: faunal trends and baselines, drivers of pelagic ecosystems, indicators of petrogenic contamination, faunal inventories, open-ocean restoration, and education and outreach. We also have three PIs chairing sessions: Dr. Tracey Sutton (Session 2), Dr. Rosanna Milligan (Session 11), and Dr. Isabel Romero (Session 20). Come and learn more about our research! Check out our presentation list below. Hope to see you there!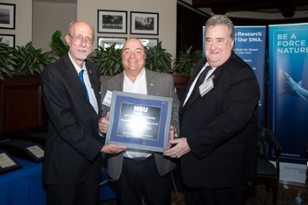 For the second time in NSU history, there were two Provost's Research and Scholarship Award winners. Nova Southeastern University (NSU) Executive Vice President and Interim Provost Ron Chenail, Ph.D., presented Mariana Morris, Ph.D., and Tracey Sutton, Ph.D each with the 9th Annual Provost's Research and Scholarship Award.
The purpose of the award is to recognize a faculty member who has demonstrated significant achievement in support of NSU's mission to foster scholarship, intellectual inquiry, and academic excellence. Research and scholarship are two of NSU's eight core values, and excellence in these areas enhances education, patient care, and public service, and develops superior scholarship.
Dr. Sutton's award is a featured story on the GoMRI website
  
Deepesh Tourani
As part of the DEEPEND Consortium, our laboratory has been characterizing the microbial community composition and structure in the northern Gulf of Mexico (NGoM) pelagic waters using modern molecular ecology methods. We had previously sequenced a large cache of 16S rRNA gene data, which included 466 samples from two cruises in 2016 (May: DP03, August: DP04). To enhance taxonomic identifications, Mr. Tourani's MS thesis in Jose Lopez's laboratory at Nova Southeastern University has taken the same baseline 16S data and transformed it to infer the potential  functions of the midwater microbiomes across time and space. The Phylogenetic Investigation of Communities by Reconstruction of Unobserved States (PICRUSt) approach was used for predicting biomolecular function based on the KEGG metabolic database. Strong depth stratification of metabolic function was observed (p<0.001), with a major shift in function between euphotic zone and aphotic zone, associated with a major differential abundance of photosynthetic functional signatures. Temporal analyses showed photosynthetic primary productivity was significantly different across season but not year, which may be attributed to high seasonal outflow of the Mississippi river. 
The DEEPEND Consortium's Research Associate Nina Pruzinsky, M.S. was  recently named a GOMRI scholar and her work is now featured on the GOMRI website:
"The Deepwater Horizon oil spill overlapped with the spawning activities of many ecologically and economically important tuna species. However, the significant knowledge gap regarding early life stage tuna taxonomy and distribution makes it difficult to understand how the spill may have affected them.
As a graduate student, Nina Pruzinsky examined the abundance, distribution, and morphological characteristics of larval and juvenile tunas (Scombridae) and identified primary drivers of their distribution to help fill this gap and inform future management and conservation efforts.
Nina, who recently completed her graduate studies, was a master's student in Nova Southeastern University's Department of Marine and Environmental Sciences and a GoMRI Scholar with the Deep-Pelagic Nekton Dynamics of the Gulf of Mexico (DEEPEND) Consortium.
The GoMRI community embraces bright and dedicated students like Nina Pruzinsky and their important contributions. The GoMRI Scholars Program recognizes graduate students whose work focuses on GoMRI-funded projects and builds community for the next generation of ocean science professionals."
Her story can be found by clicking this link.
Congratulations Nina from the entire DEEPEND team!!